Handmade Wood Jewelry Boxes
Handmade
wood jewelry boxes
can be used by either a man or woman, and can be configured for needs now and in the future. Each box is not only functional, but a treasured work of art.
Many people assume that jewelry boxes are only for women. Wood jewelry boxes certainly are unique gifts for women, but they can also be a unique unusual gift for men. Women have always loved to store everything from their costume jewelry to their heirloom treasures in beautiful boxes. However, the man in your life can also use a men's jewelry box to store his things as well.
A jewellery box helps organize the contents, so that each piece can be easily reached. Most handmade wood jewelry boxes have dividers in them, and many times those dividers can be changed to personalize your box even more. Dividers really help small earring posts from getting lost. These small sections also work wonderfully for men's tie tacks, cuff links, money clips, and more. The dividers can also be totally removed so that you can lay your collections out, or keep them in the original box they came in. Pearls and beaded jewelry are more easily broken, so one or more drawers have longer slots to lay the more fragile pieces down in the box and keep them separated.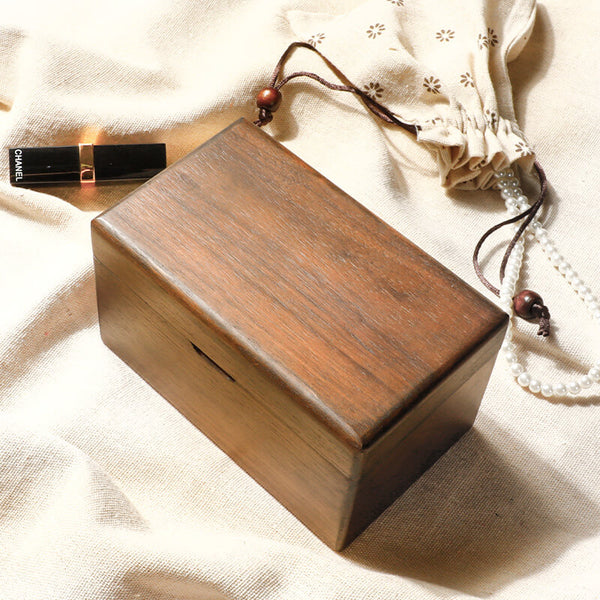 Some jewelry storage boxes are made with hanging necklace holders. They protect the jewelry from getting tangled, and keep each necklace visible and ready to grab. Most have trays at the bottom to catch any pendants that are especially long. Men are starting to wear necklaces more than ever before, so necklace holders work for them also.
However, many styles of wooden boxes are built so all of your jewelry lays flat. Boxes can come with different levels within one box, or with numerous drawers to organize your jewelry or keepsakes.
Watches have become one of the hottest jewelry statements for both men and women. Many wood jewelry boxes are being made now for strictly watches, complete with watch pillows. Of course, if you don't need an entire watch box just for watches, the drawers can be set up to be dedicated watch drawers within your box. Imagination and organization are your only limit, and your handcrafted wooden box can always be rearranged for future needs.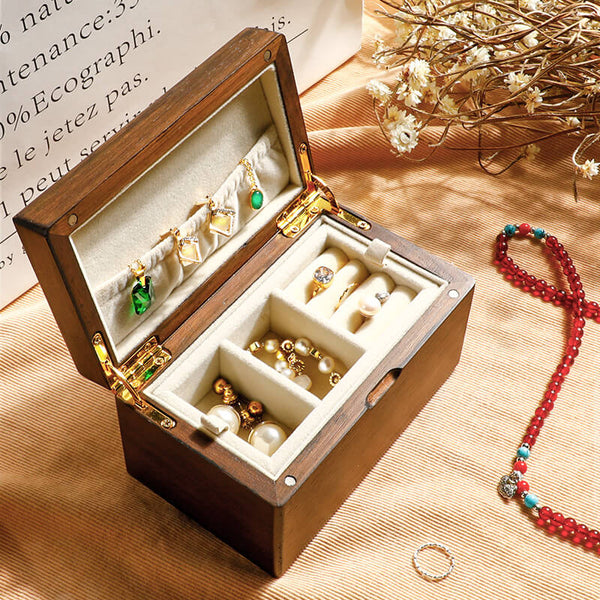 Whether you are choosing wood jewelry boxes for a man or woman, you would like it to be of the highest quality and craftsmanship. A handmade jewelry box is not only functional, but a work of art that you use every day. Many times they are made out of exotic hardwoods, artistically mixed together with burls, to compliment and make each one even more beautiful. Burls are beautiful accent woods, known to most people as the 'warts' growing on the sides or in the root system of the tree. Many people think burls look like granite or stone the first time they see it; the natural swirls create beautiful patterns and no two pieces are ever alike.
Another good way to tell if wood jewelry boxes are high quality is if they are lined with acid free suede, so that you have a tarnish free jewelry box (although with sterling silver, you still need to place the jewelry in the bags they came in, as air is the real culprit in tarnishing silver). This is important because wood jewelery boxes should not only serve to organize your things, but protect them as well; allowing you to enjoy your jewelry for years to come.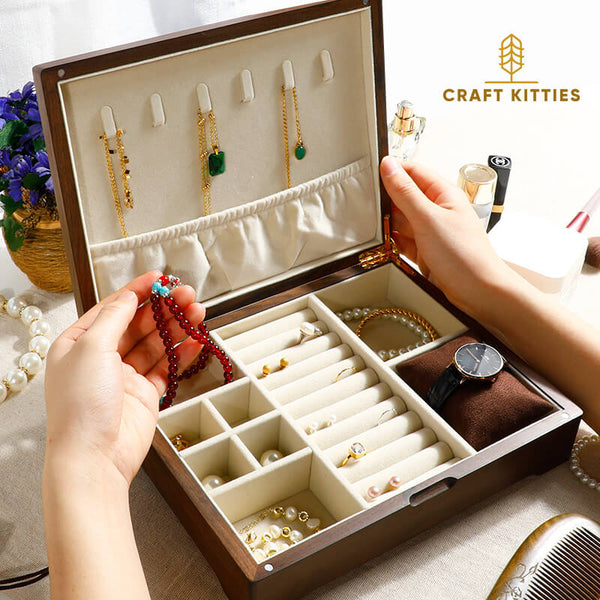 Good quality wooden jewelry boxes have the potential of turning into heirlooms. They are strong, giving them the ability to last a lifetime. Their surfaces can be decorated in several ways. They can be carved, embellished, done up in Marquetry and much more.
There are several kinds of wood that can be used to make jewelry boxes. Mahogany, a locally found wood is especially popular. One of the main reasons it is used in jewelry cases is for its rot-resistant power.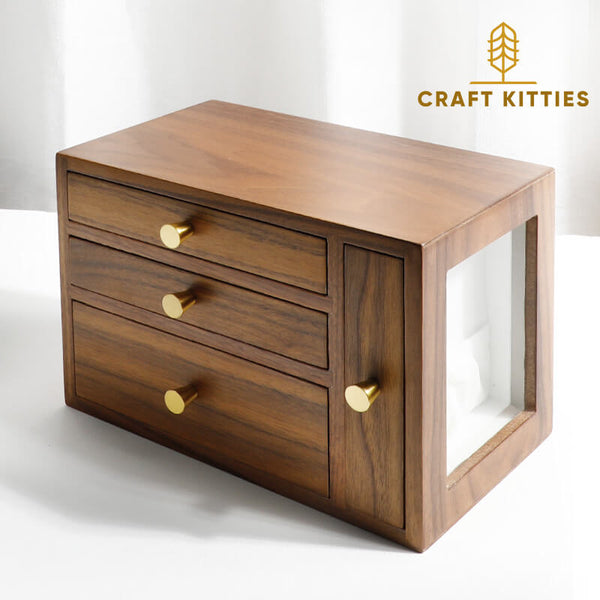 This wood has a wonderful sheen to it when polished. Most craftsmen, professional and amateur, prefer to work with Mahogany because it easily submits to all kinds of tools. It is extensively used in valets for men, for the masculine aura it exudes.
Ebony, easily found in the States, is particularly dark in color, thus giving jewelry boxes made from it a wonderful depth. It is also a dense form of wood, so much so that it sinks when placed in water. It is therefore strong and durable.
If you have an antique or classic look to your décor, then an ebony wood jewelry box would fit right in. The lids of these boxes can be carved in several ways. They can even be buffed differently to give it a vintage look. Popular designs are stacked versions with pull out drawers or removable trays.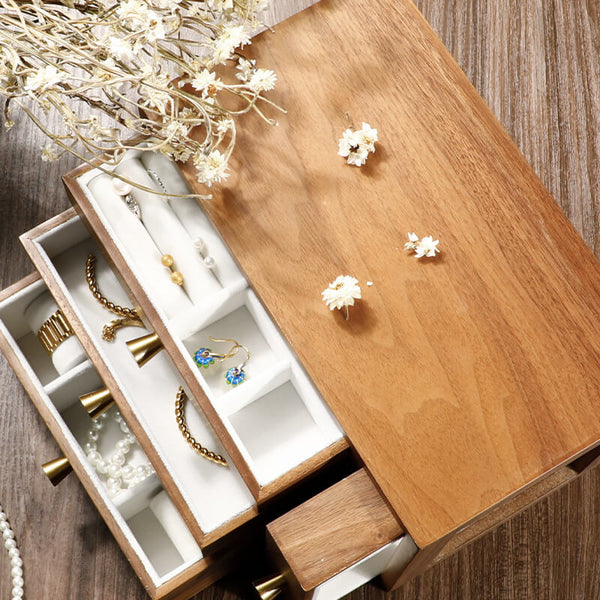 White ash wood jewelry boxes are lighter in color. This wood has found greater acceptance amongst craftsmen for its ability to bend beautifully when steamed. This makes it the ideal choice for decorative jewelry boxes with some curves and shapes.
White ash is strong, with its weight to strength ratio being equally balanced. Though it is an open-pored wood, it does not have any distinct odor of its own. It's a wood that is strong, shock-resistant, and yet flexible.
Cherry wood is popularly used in the making of jewelry boxes. It has a heartwood that ranges from light pink to reddish-brown, and sapwood that is generally a lighter shade. With time, all cherry wood tends to darken a bit adding to its elegance.
This wood works exceptionally well if you want to carve on your jewelry box, thanks to its smooth texture. Though it easily shows off any kind of finish, the best are the natural ones for this wood.
Traditionally designed cherry wood boxes can be highlighted with brass accents while the more modern interpretations can be done up with silver. Cherry wood boxes are also best highlighted with gum streaks.
Maple wood boxes are perhaps the lightest of wooden cases available. Sometimes white maple is bleached before the actual polishing, making it lighter. Curly and bird's eye maple is extensively used in creating decorative objects.
Unfortunately maple is a single growth tree. This means that once the supply is exhausted, its price is going to skyrocket to that of other rare trees. This is estimated to happen in the States within 25 years.
Wood is one of the best materials from which to create a jewelry box that will remain a pleasure for life. All you need to do is decide on the kind of wood you would like to use based on your personal choices or the preferences of the person you want to gift it to.
Good jewelry boxes are works of art. Wooden jewelry boxes are available in various finishes and textures. The choices range from warm mahogany wood, white ash, cherry, maple, koa, walnut, birch, burl and other varieties found in America. Several special boxes are created with wood sourced from other countries. Examples of such wood varieties are rosewood, ebony, blodwood, bocote, jatoba, kingwood, lacewood, olivewood, padauk and many more. The type of wood used and the quality of craftsmanship determines the price of the jewelry box.
The most common type of jewelry box is one with a wooden flip top lid. In many of these, once the box is opened, a musical tune plays lightly in the background. With time there have been several changes introduced in the designs and styles of jewelry boxes. The musical jewelry boxes made of wood have their own special kind of charm.
v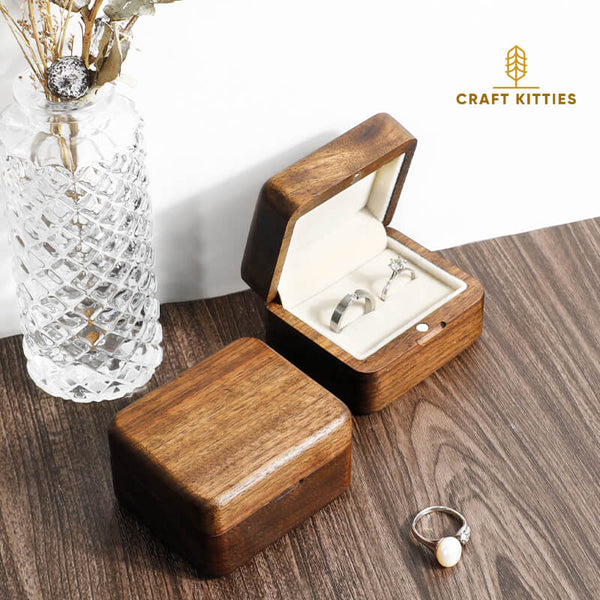 With exteriors made of good quality wood and the interiors lined with soft satins and velvets, wooden jewelry boxes make perfect nesting places for your jewelry. The soft lining ensures that the delicate pieces of jewelry kept inside are not damaged in any manner.
Some exquisitely made wooden jewelry boxes are antique pieces which have been crafted by master craftsmen and are collector's items. There are several established firms who specialize in making wooden jewelry boxes. For those who want inexpensive wooden jewelry boxes, several can be found at local stores. These pieces are made by bulk manufacturers.
Some innovative designs seen in wooden jewelry boxes are those with divided compartments and lift out trays or with frame and panel lids as well as raised "pillow-style" lids.
Wooden jewelry armoires are tall units, with stacked drawers and often with hooks to hang longer items such as necklaces.
Jewelry boxes are available in various price ranges to suit different needs. There are those that are commonly available in stores and exquisite and unique pieces which can be bought only in renowned auction houses. A well made jewelry box is a beautiful object to possess and to give as a gift.
Our wood designs are original works of art, no two creations are the same. Each wood shown has its own unique wood grain pattern and color.
Craft Kitties
always adheres to the design concept of minimalism + function and is committed to designing and producing high-quality solid wood products with nature as raw materials.
Click to learn more
---